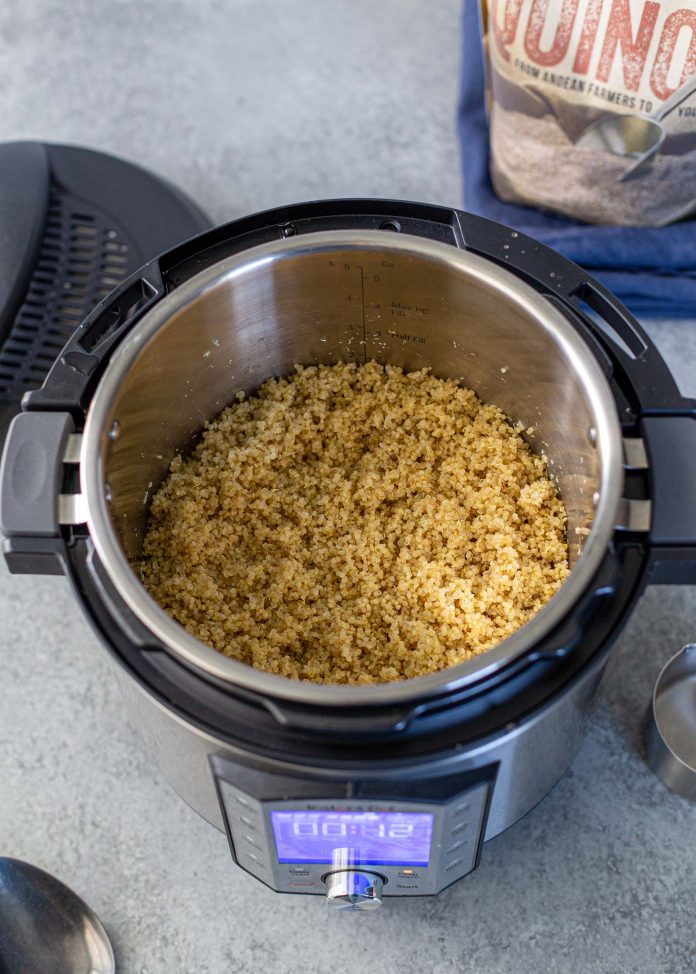 [ad_1]

Wondering how long to cook rice, quinoa, farro, and a host of other grains in the Instant Pot? This temperature chart provides all the info you need!
Photography Credit:
Coco Morante
Are you a convert to cooking rice in your Instant Pot? If so, you should know that there's a whole world of other grains you can pressure cook, too!
From amaranth to wheat berries, here are the cooking times and tips to know.
How to Cook Grains in the Instant Pot
Cooking all manner of grains in the Instant Pot is as easy as adding the grains and water to the pot, closing the lid, then selecting the time at high pressure based on the chart you'll find at the end of this post.
Once the cooking program ends, let the grains rest for 10 minutes then release the pressure, open the pot, fluff with a fork, and enjoy!
The ratios of grain-to-water listed in the chart will work for any volume of grains you want to prepare – just multiply or divide as necessary.
Here are a few rules of thumb to keep in mind:
Use the pot-in-pot method for smaller batches: Most Instant Pots have a convex surface at the bottom of the pot, so the grains in the middle may not stay submerged in enough water if you cook less than 1 1/2 cups (raw) grain at a time. When I'm cooking a small batch of grains, I use the pot-in-pot method for the best results. Pour one cup of water into a 6-quart Instant Pot (or 1 1/2 cups if you have the 8-quart size), place the wire metal steam rack inside the pot, then put your grains and the called-for cooking water amount in any steel bowl that fits inside the pot. The 1 1/2 quart bowls from Vollrath are my favorites – either their heavy duty or thinner bowls will work well.
When cooking grains, never fill the pot more than halfway. That way you'll allow for enough room for the grains to expand as they cook.
Rinse less starchy/sticky grains first. Use a fine mesh colander so the grains don't fall through and let cool water run through the grains until the water runs clear, giving them a couple shakes as you go.
For more flavor, add salt or a flavored cooking liquid such as stock or broth. I use about 1/4 teaspoon of salt per cup of grains if I'm cooking them with just water, and I don't add extra salt if I'm using stock or broth. A little olive oil or a pat of butter is a nice addition, too.
Always give your grains a 10-minute timed pressure release before opening the pot. This ensures that they will be tender and evenly cooked
Instant Pot Cooking Time Chart for Grains
All grains should be cooked at high pressure.
| | | | |
| --- | --- | --- | --- |
| Grain | Grain to water ratio | Cooking time (in minutes) | Cooked yield (cups) |
| Amaranth | 1:2 | 5 | 2.5 |
| Barley, hulled | 1:3 | 25 | 3 |
| Barley, pearl | 1:2 | 20 | 3 |
| Basmati, brown | 1: 1 1/4 | 20 | 3 |
| Basmati, white | 1:1 1/4 | 8 | 3 |
| Brown rice | 1: 1 1/4 | 20 | 3 |
| Buckwheat groats | 1: 1 3/4 | 4 | 4 |
| Bulgur wheat | 1: 1 1/2 | 10 | 3 |
| Couscous, Israeli | 1:2 | 5 | 3 |
| Farro | 1:2 | 25 | 3 |
| Fonio | 1:2 | 3 | 3 |
| Jasmine rice | 1: 1 1/4 | 8 | 3 |
| Kamut | 1:2 | 25 | 3 |
| Millet | 1: 1 2/3 | 10 | 4 |
| Oats, old-fashioned | 1: 1 2/3 | 6 | 2 |
| Quinoa | 1: 1 1/4 | 8 | 3 |
| Sorghum | 1:2 | 30 | 3 |
| Spelt | 1:2 | 25 | 3 |
| Steel cut oats | 1:3 | 10 | 3.5 |
| Teff | 1:2 | 3 | 2.5 |
| Wheat berries | 1:2 | 25 | 3 |
| White rice | 1: 1 1/4 | 8 | 3 |
| Wild rice | 1:1 1/3 | 25 | 3 |
[ad_2]

Source link