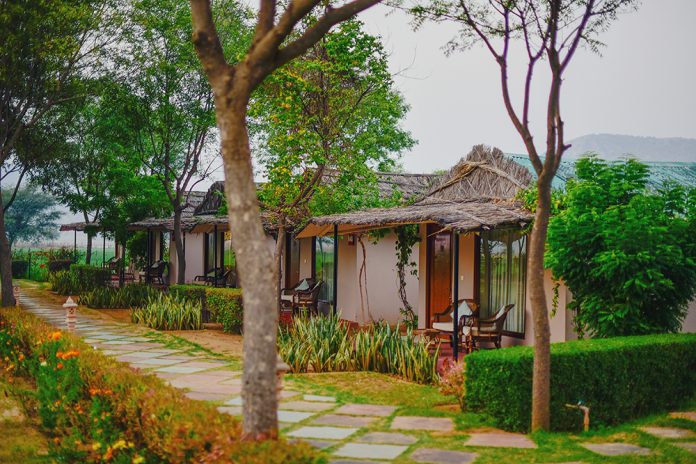 With domestic travel booming in a big way because of covid, more and more people, including myself are always on the lookout for those untouched, well-kept secret places that we can escape to away from the city and discover more about the land that we live in. Which is how I discovered Vilasa Luxury, a travel portal that creates and curates bespoke travel itineraries just for you that cater to your tastes and travel preferences. I was looking at discovering more about Rajasthan even though I've visited it so many times before and boy did they deliver! My friend and I had an amazing road trip from Delhi to Dera Vilage, Kalakho and then onwards to Dera Dune, Jamba and we got to see Rajasthan in a completely new light – right from the warmth of the people, to the middle-of-nowhere locations we got to see, to the food we ate and ofcourse the absolutely brilliant experiences we were whisked away on. We came back so refreshed!
We started with Dera Vilage at Kalakho which is about a 6 hour drive from Delhi. Nestled in an obscure location on the map, the property is in the middle of gourd plantations that get visited by hyenas at nights and witness the local farmers firing their air-guns in the air to scare them away. With 16 cosy cottages, Dera Village almost reminded me of the times I enjoyed the Infantry Officer's Messes back when my father was still serving in the Army – a close knit family vibe, lush green lawns with an outdoor bar setup, options to play badminton, a pool room equipped with a beautiful fireplace for chilly winter evenings and a common dining area for all the guests to gather and eat together. I LOVED it!
I must make a special mention of how incredible the food at both the Clement Retreats properties was – they mostly use fresh, organic produce grown in their own farms surrounding the properties while the remaining is obtained locally to support the neighbouring farmers. It reminds you of yummy ghar-ka-khaana with unmatched freshness while at the same time introducing you to typical Rajasthani dishes and preparations that you may never have heard of. Brilliant!
Dera Dune, Jamba is another 8 hour drive from Dera Village but can also be easily accessed via Jodhpur if you prefer flying. Again, located smack in the middle of nowhere, atop a sand dune, with 16 cottages and stunning 360 degree views of the land around, you get to witness some spectacular Rajasthani sunsets, have beautiful spaces all over the property to relax by yourself, catch up on some reading and a gorgeous pool as well!
We also got to experience some amazing places like nearby salt pans in a village called Baap, a local potter who opened up his home to us, visitng a weaver's home where he and his wife hand weave the most on-trend rugs, witnessing thousands of Demoiselle Cranes flying in from Mongolia to stop over in Khichan to feed on Jowar that's kept for them in a safe enclosure to protect them and help them on their incredibly long migratory journey and ending our stay with a desert camel safari and a beautiful sundowner (with the best banana bread you ever had, no jokes). Can't wait for you to see the lovely pics from this experience with Vilasa Luxury and The Clement Retreats.
Dera Village

Chilling outside our cottage

Simply amazing to chill in the winter sun with some piping hot potato wedges and beer!

We even managed to get in a game of badminton and multiple games of pool.

Dera Dune in the distance while we went for a sundowner walk to the nearby sand dunes

Our lunch spot under the winter sun on one of the days

Inside the weaver's home

The nearby temple in Jamba which is absolutely stunning during the sunset

Like I said, the sunsets we got to experience were a thing of utmost beauty.

Our cottage at Dera Dune

It was nothing short of phenomenal to witness these thousands of Demoiselle Cranes in Khichan early morning to come feed and take a short break before flying off in their amazing arrow shaped formations.

At the salt pans at Baap

At the potter's home

The sundowner on our final evening at Dera Dune. Such a lovely evening spent with Anjali of The Clement Retreats!
Touristy things on our sundowner walk around the sand dunes of Dera Dune


Extremely touched by the warm hospitality of the entire staff. It was also very special to be a part of the flag hoisting on Independence Day while we were there. We sang the National Anthem and ate laddoos after. Felt as excited about it all as we used to be when we were kiddos!
Hope you enjoyed the post!
Stay connected with me over Facebook | Twitter | Instagram | Pinterest |
Related