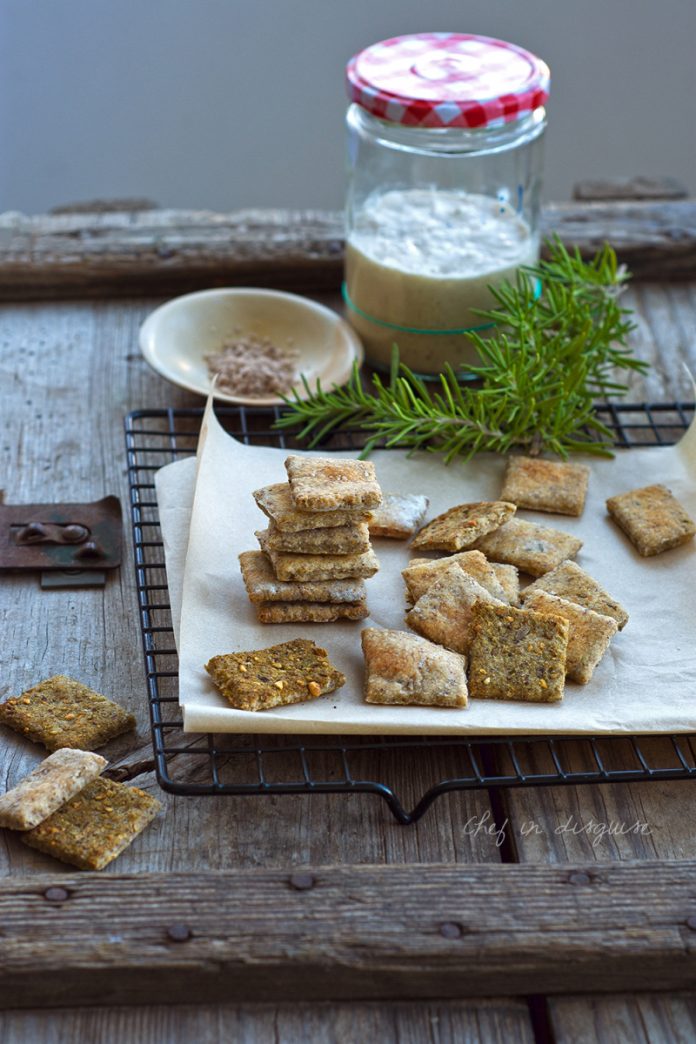 You can stop looking for ways to use up your sourdough discard!
These sourdough crackers are crisp and slightly tangy, perfect with hummus, some feta cheese, soup or simply as a little pick me up snack when you are in the mood for something savoury and crisp.
If you enjoy sourdough baking as much as I do, and if you hate waste as much as I do, you must have a jar of sourdough discard in your fridge that needs some love and attention.
Every week we vote on what to make with the discard that we have collected from feeding our starter over the week. The kids mostly vote for sourdough donuts but yours truly enjoys making these crackers! They are super quick and easy. A bowl, rolling pin, baking tray and 10 minutes is all it takes!
Added to that the possibilities for flavour are endless. I have tried them plain, with herbs, with seeds, with olive paste, tomato paste and even with cinnamon sugar!I personally love them with olive tapenade, the kids love them with rosemary and seeds or with sundried tomato and herbs. I will include all the possible add ons in the notes below the recipe and if you try these, do let me know which flavour you enjoyed the most.
Sourdough Crackers
Ingredients:
1 cup whole wheat flour
2/3 cup wheat germ (See notes for substitutions)
2/3 cup sourdough starter discard
1/4 cup olive oil
1/2 teaspoon salt
1 tablespoon herbs de provence (see notes for substitutions)
Instructions:
1. Mix all the ingredients and knead till you get a homogenous dough. (Do not over knead it. We are only looking for a homogenous dough ball)
2. Allow to rest for 10 minutes
3. Divide the dough into two balls. Roll each between two sheets of parchment paper till about 0.5cm in thickness.
4. Remove the top layer of parchment paper and use the lower one to transfer the crackers to the baking pan.
5. using a pizza cutter or a knife, cut into 3 cm by 3cm squares
6. Bake in a 180 C oven for 15 to 20 minutes. Keep an eye on them after the 10 minute mark as they tend to brown quickly.
7. Turn off the oven when the edges turn golden and leave the crackers in the oven till it cools down completely.
Notes
Wheat germ: You can substitute the wheat germ with flour. I personally enjoy adding rye flour or barley flour but you can add whole wheat or all purpose if you like.
Herbs: You can substitute herbs de provence with your choice of herbs. Rosemary is a great match to the tangy sourdough notes. Oregano or thyme also works really well. If I am out of herbs de provence I usually mix equal parts rosemary, basil and oregano
Flavouring:
To turn these crackers into olive crackers, add 1/4 cup olive tapenade to the dough and knead it with the rest of the ingredients
To turn them into pizza crackers add 1/4 tomato paste or sundried tomato paste
Toppings
For seeded crackers mix of equal parts:
Sunflower seeds
Pumpkin seeds
Chia seeds
Flax seeds
Flaky salt
Garlic granules (optional)
Onion powder (optional)
Sprinkle a cup of the seeds mix over the dough then use the rolling pin to press them into the rolled dough
You can also use Dukkah or zaatar as a topping