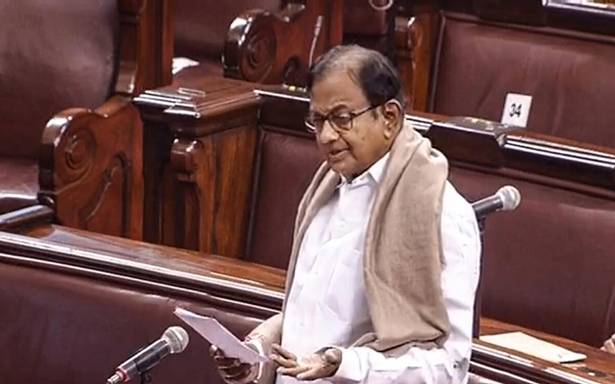 Two days before the Budget session is set to go into recess, both Rajya Sabha and Lok Sabha are scheduled to discuss the Union Budget presented on February 1 by Finance Minister Nirmala Sitharaman.
Defence Minister Rajnath Singh apprised Rajya Sabha on situation in Eastern Ladakh, and said that India and China have agreed on a disengagement plan for North and South Pangong lake.
Rajya Sabha will debate on Major Port Authorities Bill, 2020 while Lok Sabha is set to take up Arbitration and Conciliation (Amendment) Bill, 2021
Here are the updates:
Rajya Sabha | 2.50 pm
MoS, Finance, Anurag Thakur speaks in the House.
He says he encourages debate and discussion on the Budget, but he is deeply hurt that the Opposition is branding Mahatma Gandhi as seditious. To link the Mahatma to aandolanjivis is wrong, he says.
The Opposition protests, saying that Mr. Thakur's claims are unparliamentary and false. 
The MoS says that the budget has received positive reviews from all States.
The Congress MPs storm into the well.
Mr. Thakur says that the poor people have benefited the most from the policies of the Modi government. The Modi government has brought historic number of people out of the poverty line.
The Budget has also benefited Women and children, he says.
He counters the opposition charge that poor and vulnerable sections were ignored.
The house is adjourned.
Rajya Sabha | 2.35 pm
K.C. Venugopal, INC, Rajasthan, expresses solidarity with the farmers and points towards unemployment as a major issue.
The same PM who had promised 2 crore jobs each year is now mum about jobs, he says.
He says that 21 million salaried employees lost their jobs according to reports. He says that there has been a loss of ₹1 lakh cr. in the Tourism industry.
He says that the budget is silent on employment generation.
Mr. Venugopal says that per capita income of India has fallen behind its neighbours like Bangladesh.
The Congress MP asks Centre – "where is the roadmap to address these concerns?"
Extraordinary situation demands extraordinary measures. But the budget is just ordinary, Mr. Venugopal says.
The Centre claims V-shaped economic recovery is in process, but how and where it is happening is not stated, he says. 
Disinvestment is the only source of revenue for this  government. The Airports Authority of India is becoming the Adani Authority of India, he adds.
He criticises the government's move to increase excise duty on fuel. "The Minister has misled people on crude oil prices," he said. 
"You claim to be nationalists, but not a mention of Defence in FM's speech. We saw the nationalism by BJP. The information on Balakot incident was leaked by one of your media friends," the Congress MP said. 
Our annadata are struggling on the steets. But PM is saying we are all aandolanjivis. But we saw since 2014, in Delhi, was that also instigated by aandolanjivis? What does he mean by aandolanjivis? India got freedom because of aandolan. Mahatma Gandhi, by that logic, is also an aandolanjivi, he says.
Rajya Sabha | 2.30 pm
TDP MP K. Ravindra Kumar says, that the budget provides no hope for people of Andhra Pradesh. He opposes privatising the Visakhapatnam steel plant.
He says that the government has been suppressing political opponents and dissent by filing false cases. He asks for support from the Centre for AP reorganisation Act and lawlessness in the State.
Rajya Sabha | 2.10 pm
Farmers will go home only when they can say 'fateh, fateh, fateh': Naresh Gujral
SAD MP Naresh Gujral says the questions of farmers being in debt arise. "My farmer is on the street because he feels that the market is going to be snatched away from him. Punjab, which included Haryana, came to the country's rescue when we were in need of food. FCI had been procuring wheat and paddy that he produced. The market was at their doorstep. Now they fear, with these laws, they will have to go to the private player and they will not get MSP. The PM himself said, these farmers have a market at their doorstep. They can take the production risk, but cannot take the marketing risk."
"Why not legalise MSP by putting it in the law. The day you do that, the farmers will return to their homes. I must tell the government's spokespersons stop defaming the farmers. And force will be of no use against the farmers. The farmers will go home only when they can say ,'fateh, fateh, fateh' (victory, victory, victory)."
Rajya Sabha | 1.55 pm
DMK MP T.K.S Elangovan says that he sympathises with the Finance Minister for trying to present a budget during the pandemic. She has made an effort but I am not sure if it will bear any fruit, he said. However, the daily wage workers have not benefited from the Budget.
He said that the budget is based on a U.S. model. "The eagle can fly high because it is an eagle. The peacock can only dance. India needs care. The government must protect its people," he said. 
Jharna Das Baidya, CPI(M) raises the issue of cut in budget for the midday meal scheme.
Rajya Sabha | 1.44 pm
Sujeet Kumar, BJD MP from Odisha welcomes the green initiative of launching the Budget in digital Budget.
Mr. Kumar flags the concerns of marginal hike in defence sector. In comparison to Pakistan and China's spending on defence, India's is lower, he said. 
He expresses his disappointment over the spending on Education.
It is concerning that the spending on education has decreased in the same time that the NEP is being introduced, he said.
He said that there was an urgent need to increase Railways spending in the State.
He said that his hometown of Kalahandi has come a long way. The 20-year journey is an example of development across the country.
Rajya Sabha | 1.30 pm
M. Thambidurai, AIADMK, says that the India's vaccine is much sought after in the world. He appreciated the PM for visiting vaccine producing labs, 'risking his life' to ensure that the vaccine was produced in time. He requested the Centre to enhance funding to Tamil Nadu to combat the pandemic.
Mr. Thambidurai requested the Centre to connect the corridor between Trichy and Coimbatore. He also requested metro project in Madurai.
He requested the Centre to take up a project connecting Jolarpettai and Bengaluru via Hosur.
The AIADMK MP asked the Centre to give loan waver worth ₹12,500 cr. to farmers who borrowed from public sector banks during the pandemic.
MNREGA should not be ignored. To create more employment Centre should spend for employment in rural areas, he said.
He asked the Centre to resume funding for the Members of Parliament Local Area Development Scheme. It will ensure that the MPs have an increased participation in development, he said.  The MPLAD funds has been withheld for COVID pandemic.
Rajya Sabha | 1.10 pm
Sukhendu Shekhar Ray, AITC, asks what is the basis of the government's claim that the economy will grow by 14%.
The govt., Mr Ray says is making empty promises in the name of Atmanirbhar Bharat.
The govt. believes that MSME sectors will restart their business after lending from banks. But the loans taken by MSME sectors are at an all time low
You claimed that you will double the farmers' income in five years, now you have extended the deadline to 2022. One year is left. Now bringing in the three farm laws you want to convert agriculture into playground for corporates, he says.
In April 2020, 12 crore people lost their jobs. Pandemic only added salt to the injury, the economy has been on a downside since demonetisation, he adds.
The TMC government has constructed more than 88,000 km of state roads in last 10 years, now the centee ahead of the polls is coming up with a lollipop of 675 km of road.
He complains that the state as per devolution of funds has got ₹10,000 lakh crore less than what the State were owed.
No money given for rehabilitation after Amphan cyclone.
Mr Ray says that fuel prices in India is far higher than the prevailing rate in our neighboring countries.
He asks why the government was decriminalising those who 'ran away' with the people's money in public sector bank. He says that criminal action must be taken against them, says that no one can do anything about it because 'everybody is sold'.
Rajya Sabha| 1 pm
Arun Singh, BJP, pays compliments to FM Nirmala Sitharaman for not imposing any additional taxes despite the adverse circumstances.
Speaking during the debate on Union Budget 2021, Mr Singh talks about the corruption cases and lack of credibility in the UPA era.
Rajya Sabha | 12.25 pm
Budget for the rich, by the rich and of the rich, says Chidambaram
P Chidambaram speaks in the Rajya Sabha.
"Let me first recall the last year, The former CEA Aravind Subramanium said that pre-COVID the economy was in ICU. Nobel Laureate Abhijit Banerjee said that the economy was doing badly before the pandemic. The country has witnessed a slowdown of 8 quarters so far. 
"The govt. was in denial about slowdown in economy. The govt believed wrongly that the problem in Indian economy is cyclical and not structural. 2 years of slowdown is a reality before coronavirus," he said.
"We pleaded, that while you address the basic issues of the economy, please do two things, one do cash transfer and second use your mountains of food grains to free ration to poor people. But economists continue to point out that the poor are getting no money and the rations have not continued," Mr. Chidambaram said. 
He said that the govt. believes supply-side responses will improve the economy, but he could count on his fingers who these theorists were. "The Finance Minister, Prime Minister's speech writer, the Chief Economic Advisor and the distinguished economist who heads Niti Ayog are among them. I am still looking for 5th supporter," the Congress MP said. 
Economists say there is a need to stimulate demand but the govt. is still not learning the lessons of the last 12 months, he said.
"We are back to where we are 2017-18. Three years of incompetent economic management will mean that we will be exactly where we were in 2017-18. I can't use harsher word that incompetent in Parliament," Mr. Chidambaram said.
28 million people actively seeking jobs: Chidambaram
He pointed out that about 64 million dropped out of labour force and 22% of them are women. He also said that 28 million people are registered today actively seeking jobs but MSME units have shut down.
"There is no demand in the bulk of india. Even in advanced states like TN, imagine how it will be in backward states like U.P.,  Bihar and Odisha," he asked, "You have ignored bulk of India. Who is this budget for?"
Major numbers are suspect in this year's budget, Mr. Chidambaram said. The total additional capital expenditure is ₹51,000 crore. Where did the rest of the money go?  He asked.
"On the revenue side your expenditure increased by over ₹4 lakh crore and a revenue shortfall of over ₹3 lakh. Mark my words, the revenue projections for next year are ambitious and there will be a shortfall," he said.
The Congress MP said that not enough was being spent on Capital expenditure. "The numbers will unravel and there is no excuse this year," he said. The money you borrowed will only be used to fill the gaps, he added.
"Let me point out another number that will unravel. You have projected nominal GDP growth by 14.8% and still say that growth will be 11%. The maths  is bewildering," he said.
"Dr Gita Gopinath has said that to reach pre-Covid level will take three years. This years' growth will only be 8.4-9.4%, which is a natural and mechanical growth after the coronavirus-induced slowdown. Don't boast about the numbers. It will take you 2-3 years to get to a stable GDP. Take the advice of well meaning critics, address the structural issue of the economy and support the poor," Mr. Chidambaram stated.
I have to complement that for the first time there was no mention of defence in the budget speech. The Health sector is completely shot down in the budget, he said. What you have done by imposing the cess is to deny the States of revenue, he added.
"I want to point out that the text of the speech is prosaic and bureaucratic. What is the pretext of the speech? We have a pandemic. Let me tell you that we don't hold you responsible for COVID pandemic. And we won't give you credit for it leaving India," Mr. Chidambaram said.
This is a budget prepared for the rich, of the rich and by the rich, he said.  This budget has done nothing for the poor of India, migrant workers, those who have waiting for ration.
"We must therefore record our strongest protest and dissent. And because of this dissent we will be called andolanjeevi," he said.
We reject this budget in the name of the people and appeal to you to provide cash transfers, ration and succor to the poor, the Congress MP added.
If there is no improvement soon, the poor will wake up and in a non-violent peaceful manner show the govt. what should be done and how it should be done, Mr Chidambaram concluded. 
Rajya Sabha | 12.15 pm
Birendra Prasad Baishya, AGP, Assam, hails the budget. Under the leadership of PM Narendra Modi ji government is working in the right direction.  He appreciates government for production of COVID vaccine. He said that it is a great example of Aatma Nirbhar Bharat that the vaccines are not only being produced but also exported to other countries.
He expresses concern about capital expenditure, says that it has led to inflation.  He says he is happy that ₹34,000 cr. has been allocated for building of National Highway in Assam. He says that the Budget has successfully drawn attention to the people of the State.
Railway electrification is a dream of the northeastern people, he says. There is need to connect the northeastern region through railway lines, and this will go a long way.
He asks for a bullet train to be installed between Guwahati and Mumbai in the interest of migrants.
Rajya Sabha | 12.11 pm
Vandana Chavan, NCP, says this budget is the first document that sets the road map for ahead post the pandemic. She says that there has been no mention of the impending danger of climate change.
Rajya Sabha  | 12.05 pm
Business Advisory Committee met and decided that discussion and reply on Budget will be completed by Friday. The house will not sit on Saturday, says Venkaiah Naidu.
This means that the first part of the Budget session will now end on Friday, 2 days ahead of the schedule. It was to wrapped up on February 15.
Rajya Sabha | 11.50 am
Revisit MGNREGA: Manoj Kumar Jha
Prof. Manoj Kumar Jha, RJD, Bihar speaks in the House.
He says that there has been a tendency of late that the Ministers say we are ready to listen to people but have the attitude of "my way or highway". 
"You claim you want to listen to criticism but have earplugs on. The Budget he claims is directed for a few special people, not the common man. He points to the Articles 38 and 39 of Constitution, and asks what the Budget will do for the people of India? Let it be an aam (common man's) Budget, not a khaas (special) budget," he says.
"Don't manufacture the numbers – acknowledge the worrisome numbers," he said.
I wish Bihar elections were also held in April or May at least we would have to get infrastructure projects, Mr Jha said. He was referring to infrastructure projects announced in the budget for election-bound of states- Tamil Nadu, Kerala, West Bengal and Assam.
What kind of country are you building, where assets are concentrated with select few? He asked.
"The inequitable distribution of assets will only amplify your problems," he said. Mr Jha criticises government for reduction in government expenditure on education. He points to the digital divide and says it's not possible to provide quality education without addressing the issue.
Please revisit MGNREGA, he said. He asked for increase in wages and number of days of employment. He says that the scheme is intricately linked to hunger.
About the Railways and the goal of 100% electrification in the sector, he asks if is it a priority during the corona times.
He says that he has made a report called 'Gaon connection'. It points to how less we know about the villages. He says that he will send the report to the Ministry of Finance. It will help in making it an 'aam budget', he says.
Rajya Sabha | 11.45 am
Budget like 'sales advertisement', Make in India replaced by 'Sell India': Elamaram Kareem
Elamaram Kareem, CPI(M), Kerala, says that the budget is disappointing and does not address the needs of people. There is no vision, he says and adds that it has only increased the burden on the economy that was already in decline even before the coronavirus pandemic.
The Budget is filled with proposals to privatize. It has not heeded to the advice of renowned economists that government should out the money in the hands of the people to increase demand. No plans for those who have lost their jobs in the pandemic. He says that the Budget panders to Indian and foreign corporates.
He says that the Budget is like a "sales advertisement". Make in India slogan is replaced by Sell India, he says.
Government expenditure is less than last year, he said. Budget for key sectors has been cut including education and agriculture. Projects who have already been underway in Kerala has been added in this budget, he said.
Rajya Sabha | 11.30 am
Ram Chandra Prasad Singh (JDU) speaks on budget
He said that the Budget reinforces the idea of Aatmanirbhar Bharat. Nobody has died of hunger during corona times, he says. 
An MGNREGA works 100 days and he gets ₹24,000, how much does Kapil Sibal charge to appear for few minutes in court? What kind of equality is this? He asks.
The NDA government's philosophy is Sabka Saath Sabka Vikas. Why wasn't a central University opened in Leh when Mr. Sibal was the Education Minister? He asks.
The opposition protests. Anurag Thakur weighs in, says Mr. Sibal's time would be precious that he charges lakhs of rupees to appear in a case for few minutes. He should have been present in the House after opening the budget discussion yesterday
He says while Mr Sibal was in Delhi, he was in his village overseeing that everyone was getting ₹500 and ensuring that those stranded got ₹1,000. He said that the poor got free foodgrains to support them through the pandemic. ₹5,300 was spent on each migrant who returned to Bihar.
You are worried about industrial growth when the matter is of life and death, he says.
Chairman Venkaiah Naidu resumes duty. He tells treasury benches that absence of cabinet minister during the discussion on Union Budget is not good.
Mr Singh counters Kapil Sibal's statement yesterday. Mr Sibal had said that the government doesn't care for the poor. Mr Singh said that the union budget ensured that there were no new taxes and government expenditure has gone up.
Rajya Sabha | 11.15 am
Deputy Chairman takes up the seat.
Vishambhar Prasad Nishad, SP MP from Uttar Pradesh says there has been no Budget allocation towards infrastructure in the State. He says that the roads in the State are dilapidated and must be replaced.
He asked for the 'illegal' cases against the farmers to be retracted. He also said that illegal sand mining has been going on in U.P.
"I am from Bundelkhand, thousand cows dying in gaushalas, as no facility of fodder and water for them," he said.
"Caste census was last held in 1931, they do not get proportionate representation in governance, we demand caste based census in 2021," Mr. Nishad said.
This Budget is hollow – no money with them to give to central government employees. Demonetisation and GST has broken the back of economy, he says, adding that employment has decreased.
"The budget is an account of lies," he said.
The farm laws is a ploy to make the country a slave of the corporates, he said. The farmers are not getting proper MSP on crops, especially on wheat and corn. Mr. Nishad said that even aanganwadi workers are suffering. 
He asked for animal-induced crop destruction to be covered under PM Kisan Bima Yojna. 
He said that the disinvestment has led to job losses and even sainik schools are being privatised. Banks are privatised and private banks are being promoted. This budget increases the gap between the poor and rich, he said.
In July Olympics are going to be held and budget for sports has been reduced by ₹230 crore, he said.
He asked for an apportion budget for cancer treatment, free treatment for poor people.
Rajya Sabha | 10.50 am
"Matter of national security": Chairman shoots down Opposition's request
When Rajya Sabha members ask for an opportunity to seek clarification on Defence Minister's statement, Chairman Naidu denies their request saying "this is a matter of national unity and security."
"Discussions have been going on for the past 48 hours, and you want to create controversy? It is not good," he says.
"It was decided in the morning that we will continue the Budget discussion. Members can meet the Minister on-camera. I will explore this option," he adds.
Opposition continues to create ruckus.
Chairman says: "I know the convention. I also know what Jairam Ramesh has reminded me. Rajnath Singh met and told me that discussions are going on with the neighbour, and things are at a delicate stage, so let us wait. He met me again yesterday and said I want to take the House into confidence today. This was a fairly elaborate statement."
"I want to appeal to the House that since this is a matter of national interest, let it be seen that we are speaking in one voice," he adds.
Rajya Sabha | 10.30 am
China claims 90,000 sq km of land in Arunachal border, says Defence Minister
Defence Minister Rajnath Singh addresses the House on the ground situation in Eastern Ladakh.
"China amassed troops in Eastern Ladakh in April 2020. They transgressed and were given befitting answer by our forces. Twenty  soldiers laid down their lives in the process. Both sides established military and diplomatic contacts, keeping with our efforts to restore peace and tranquillity," he says.
"China occupied 38,000 sq km after 1962 war and 5,180 sq km given illegally by Pakistan to China in Ladakh," he says.
"In Arunachal Pradesh border, China claims 90,000 sq km of Indian land. India has not accepted this unjustified demands," says the Defence Minister.
"We have maintained that bilateral relations can prosper only if there are efforts from both sides. Peace and tranquility at border affects bilateral relations with China, so China and India's relations have been affected by these events," he says.
"Last year, I informed that China has amassed troops and armaments. India gave a befitting reply. We are occupying strategic heights… even in heavy snow, troops are protecting our borders. We have an edge in these areas," says Mr. Singh.
"In dialogue with China we told them that LAC should be respected, no unilateral move to change the status quo, all decisions to be implemented by both sided. Our strategy based on approach that not an inch of land will be ceded, and we have reached a consensus," he says, adding that "a mutually acceptable disengagement process has been worked out."
"Disengagement agreement at north and south banks of Pangong Tso has been reached. Senior commanders will meet within 48 hours after disengagement from Pangong. Troops will be removed in a phased, coordinated and verified manner," says Mr. Singh.
"India will move to Finger 3 at DS Post on north bank and China will move east side. Similar arrangements at south bank. Status quo will be restored," he says.
"Patrolling in Finger area of Pangong has been suspended till further decision is taken by military commanders based on diplomatic talks," he says, adding that "we have not lost anything through this agreement."
"Some outstanding issues remain, but both sides agree that full disengagement should be done," says the Defence Minister. "The House stands in unity for country's sovereignty."
Rajya Sabha | 10.20 am
Come and work in India, but you will have to follow India's laws, says Minister
Union Minister Ravi Shankar Prasad says that Koo, framed as an Indian competitor to Twitter, has become a "big success."
Speaking on steps taken to curb fake news and messages, he says: "we respect social media. It has empowered common people. We respect criticism… you can criticise even the Prime Minister. But if social media is used to propagate hate, then aciton will be taken."
"We respect India's electoral process and if anyone uses social media to influence elections, strict action will bet taken," he says. "Whether it is Twitter, Facebook, or LinkedIn, I have a message for all of you — come, work in India, earn money but you will have to follow India's laws."
"We have flagged Twitter, and is in dialogue with them. Why is it that when police has to act in U.S. Capitol Hill they stand in support, but when a similar action is taken at Red Fort, they oppose it? Freedom of speech is there, but with reasonable restrictions. Why double standards? You cannot spread hate messages such as 'PM harassed farmers'," he says.
"Prakash Javadekar and I are revisiting the social media guidelines," continues Mr.Prasad. "When you become a platform, you make your own law and India's laws will have no place in it? That is not how it works. You bring money and do business, but you have to respect the law of the land," he says.
On being asked to take action against fake news by media channels, he says: "My department takes action from time to time on this issue. This government is led by leaders who have fought for the freedom of media. We fought during Emergency, be it PM Modi or Rajnath ji. Our commitment to individual freedom and judiciary is intact."
"I have a message for social media platforms — freedom is important, but showing revenge sex video, street fights, porn videos, family issues on social media…? Revisit unbridled exposure of double-standards of your own guidelines," he says.
Rajya Sabha | 10.15 am
Quota for Muslim converts
To a question raised by Congress's Digvijaya Singh whether  a scavenger committee of Muslims can be included in the Scheduled Category, as per Ranganath Committee report. Mr. Prasad said the government had  huge reservations about the Ranganath Mishra committee report. "If they were promised they would be equal after gettiing converted, then why this?," Mr. Prasad asked.
Courts have given multiple judgements on quota to Dailt Christians, he said. The Supreme Court had said that "till the time you agree that you don't face the same discrimination then benefits cannot be granted to you".
Rajya Sabha | 9.50 am
Prime Minister Narendra Modi is in Rajya Sabha today. Thursday's Question Hour is directed at Department of Personnel and Training (DoPT) and Prime Minister's Office (PMO), which is headed by the Prime Minister. Respective ministers have to be present in the House to answer the question from members.
On the lapsed Judicial Accountability Bill
Speaking on the lapsed Judicial Accountability Bill, Union Minister Ravi Shankar Prasad says: "While we are having this discussion, a reminder that the Bill was brought in by UPA govt., and there were some reservations about it. We are in dialogue with the judiciary. The architecture of law needs a clarification from the judiciary."
Shaktisinh Gohil (Congress) demands that the Bill be brought back. "Why dont you make an enquiry on interference of corporates in judiciary?" he asks. Mr. Prasad replies "we are committed to judiciary's independence under the leadership of PM Modi."
On killing of Tamil fishermen
M. Thambidurai (AIADMK) asks Prime Minister Modi to condemn Sri Lankan navy for killing Tamil fishermen. Union Minister S. Jaishankar says that India had expressed strong protest to Sri Lanka on the killing of four fishermen on January 18. "They have initiated an enquiry, and we are waiting for it's report," he says, adding that India has a procedure with which to avoid such cases in future.
"Right now, there are no Indian fishermen in custody of Sri Lanka. Earlier, nine Indians were released. There are 62 Indian boats in their custody which we are trying to get released," he adds.
Rajya Sabha | 9.50 am
On under-utilisation of Poshan Abhiyan funds
Speaking during Question Hour, Union Minister Smriti Irani says that Poshan Abhiyan is a Jan Andolan campaign, and that it is the State's responsibility to implement it. "I personally participated in video conference with States. Most States could not perform its duties as aanganwadis were shut due to pandemic."
She was responding to a wuestion about under-utilisation of 52% of funds under Poshan Abhiyan. Ami Yagnik of Congress acknowledges the answer, but adds "I am unable to understand the reference to Jan Andolan campaign."
Priyanka Chaturvedi of Shiv Sena asks about the massive drop in ICDS from 2014 to 2020. Smriti Irani replies that ICDS is implemented by States. It is the State's responsibility to identify beneficiaries. "We have ensured digitisation of records and States have corrected anomalies," she adds.
Rajya Sabha | 9.40 am
Question hour begins in the House.
On forest products
Banda Prakash (TRS) asks if there is any comprehensive survey on forest products in the country. Union Minister Arjun Munda replies that some products in this category are included in a country-wide list.
Another question comes up on when was the last time the MSP of forest produce essentials was revised?
The Minister replies that in 2017-18, a scheme was initiated for the same. "Even in lockdown, we monitored it well because the markets were closed. They made a lot of profit," says the Minister.
Rajya Sabha | 9.30 am
Provide ₹25 lakh compensation for flood victims, says Sanjay Singh
Sanjay Singh (AAP) asks for an update on efforts by NDRF to rescue people from Tapovan tunnel. He says that around 170 people are still missing, and requests ₹25 lakh compensation to next of kin of those killed in the Uttarakhand flood.
Sampatiya Uike (BJP) raises a demand for protection of Gondi language spoken by lakhs of tribals.
Rajya Sabha | 9.20 am
Restriction on constructions near military posts
Elamalal Kareem (CPI-M) brings up onbjections to the restriction on construction work near military establishments in Kerala.
He says that there are 193 stations where a No Objection Certificate is required to construct anything within 100 metres. "Kozhikode in Kerala is not included in the list, and yet no construction is permitted," he says.
G.V.L Narasimha Rao (BJP) asks for a national research centre for chilly crops.
Rajya Sabha | 9.10 am
Issue of M.P.'s Sahariya community raised
Digvijaya Singh (Congress) asks that the Sahariya community in Madhya Pradesh be included in the Extreme Backward Category. As of now, they get benefits only in Chambal and Gwalior divisions. He demands that benefit be provided in other parts of the State as well. Minister Thawar Chand Gehlot responds to this, and says that the Centre has not received any such proposal from the State government.
D.P. Vats (BJP) raises a demand for more government jobs for widows of war soldiers.
L Hanumanthaiah (Congress) calls for an independent institute for classical language in Karnataka.
Rajya Sabha | 9 am
Rajya Sabha proceeding start.
Motion for election of one of the members to committee for Official Languages is adopted.
Zero hour begins.
Harnath Singh Yadav (BJP) demands that Supreme Court and High Court verdicts be provided in Hindi and other regional languages.
Jharna Das Baidya (CPI-M) demands a railway network for two tribal-dominated districts in Tripura.
Narain Dass Gupta (AAP) raises a request to open more gates at metro stations in Delhi. Currently, in adherence to COVID-19 restrictions, only one gate is open. This is leading to long queues, and causing inconvenience to the public, he says
Rajya Sabha
General Discussion on Union Budget 2021-22
Bill for Consideration and Passing:
Major Port Authorities Bill, 2020
Lok Sabha
Motion of Thanks on the President's Address
Highlights of the President's Address 2021
General Discussion on the Union Budget for 2021-2022
Bill for Consideration and Passing
Arbitration and Conciliation (Amendment) Bill, 2021