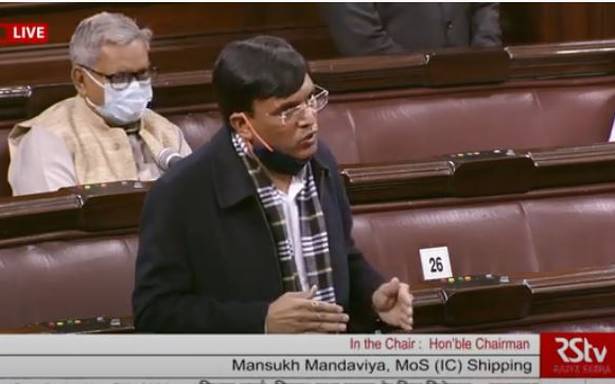 Prime Minister Narendra Modi is expected to respond to the Lok Sabha debate Motion of Thanks to the President's address today. Mr. Modi had responded to the discussion in the Rajya Sabha on Monday.
The Lower House has been witnessing disruptions on the issue of the three farm laws that farmers have been protesting against. The Upper House bid an emotional farewell to four Members from Jammu and Kashmir during its sitting yesterday.
Here are the updates:
Rajya Sabha | 11.40 am
SC and ST representation needed on the port board: Ramji
Fauzia Khan of NCP says there is an example of deliberate disintegration of the federal structure in this Bill.
Kanakamedala Ravindra Kumar of TDP says the problem is with implementation of the Bill. He says it was high time that infrastructure at Visakhapatnam port was developed.
Anil Desai of Shiv Sena says the autonomy granted in the Bill will end up privatising the ports.
Binoy Viswam of CPI says, "there is an unseen hand and unseen brain behind this Bill." "The Minister is innocent and helpless. Our land will become the land of Adani. That is why we oppose it," Mr. Viswam says.
Narain Dass Gupta of Aam Aadmi Party opposes the Bill and says MPs should be allowed to become members of port boards. "It is intended to benefit a few selected people."
Ramji of BSP says there is no provision in the Bill for SC and ST port employees to raise their voice. "They should be represented on the Boards," he says.
G.K. Vasan of the TMC(M) supports the Bill and says the Bill gives powers to major ports and will lead to economic development.
Rajya Sabha | 11.30 am
'By reading the Bill, you can tell who is behind it'
Elamaram Kareem of CPI-M strongly opposes the Bill. He says the Bill is an attempt to convert the ports into corporate entities.
The land is acquired by State government and given to Port Trusts and by converting them into Port Authorities it will become a landlord model. This Bill does not protect employees and retired people. There is a chance of leakage of secrets to anti-national elements, he adds.
Manoj Kumar Jha of RJD sarcastically says "This government is very transparent. By reading the Bill, you can tell who is behind it."
No political establishment is forever so whenever you make a legislation, don't look at the prevalent media channels, look at how it will be seen by history, he says. The Bill reduces participation of States and does not include representative of labour unions, he says.
Rajya Sabha | 11.20 am
Don't give away ports at throwaway price: Yadav
Banda Prakash of TRS says government shouldn't privatise ports. He also says workers do not have representation in the Bill.
Ayodhya Rami Reddy of YSRCP supports the Bill.
Ram Gopal Yadav of SP accuses the government of being in a selling spree. "Only two years ago Varanasi airport was renovated at a cost of ₹800 crore. Now biddings are being invited for this airport. This government is gradually selling all public assets."
"Before selling, at least evaluate the value of the property. Ensure you are not giving away the port at a throwaway price," he says opposing the Bill.
Ram Chandra Prasad Singh of JDU supports the Bill
Rajya Sabha | 11.10 am
Environmental impact of expanding ports is devastating: Wilson
BJP MP Suresh Prabhu speaks on the Bill. "Ports have not developed the way they should have. Link multi-mode transport to port management," he says.
Sukhendu Sekhar Ray of TMC says, "this government has become a seller. They are copying Singapore to ultimately privatise the ports. This is a step in that direction. Parliament is being taken for a ride. It makes major change in land use and the State government has no say in it. If the land is sold, the share must come to the State governments. I strongly oppose this Bill."
Subhash Chandra Singh of BJD says he supports the Bill, but, "India is 16th largest maritime country in the world. But look at Paradip port. 60 years have passed but no infrastructure has been developed. No development in the hospital at Paradip for the last 30 years. There was no CSR provision mentioned earlier for Paradip."
P. Wilson of DMK says the word "trust" has been taken away through this Bill. "This Bill has been brought to serve Adani's interest. This bill supersedes the State's master plan. A board to settle all disputes should be constituted comprising a retired SC judge and the Chief Secretary of a State. Retired persons are not competent to resolve disputes. Other than the SC judge, replace the other two members with technical persons."
He alleges that the government wanted to sell even the Chennai port. He brings up the environmental impact of expanding port, "expansion by Adani impacts flora and fauna also."
Rajya Sabha | 10.30 am
Major Port Authorities Bill taken up
Union Minister Mansukh Mandaviya moves the Major Ports Authorities Bill, 2020 for consideration and passing.
"In 1908, the British enacted the Ports Act. In 1963, Port Trust Act was implemented. Only the major ports were covered under it. This Bill has been brought to make important changes in the ease of doing business in the port sector, and to encourage healthy competition between major ports and private ports," Mr. Mandaviya says moving the Bill.
Shaktisinh Gohil of Congress says legislations impact people. "The Bill has weaknesses and lacuna that benefit a certain friend. Has this Bill been brought in to help a friend? Airports have been named after that friend, now the intention seems to hand over the 12 sea ports to a particular friend," Mr. Gohli says.
"Out of the 13 board members, seven are private members, and yet you say you are not privatising? Their qualification, expertise, experience has not been stated. What will their qualification be, then? 'Yes Boss' and 'Yes Ministers' will occupy the Board," He alleges.
"The workers are not adequately represented in the Board. Only two members from the working class have been provisioned in the board."
Mr. Gohil says there should be clarity on port-related and non port-related use.
"The 12 ports are national property and to protect it is our responsibility. There are so many windows in the laws that big businesses will lend some help but soon it will be taken over. Send the Bill to the Standing Committee."
"It was sent to Standing Committee earlier, but that Bill lapsed due to the dissolution of the previous Lok Sabha. There was once a Gujarat model of Mahatma Gandhi. This Bill is a copy of the model that came after 2002."
"I wont praise Mansukh bhai because his wings will be clipped- unlike our party's internal democracy where anyone can be praised and there are no consequences," Mr. Gohil says.
"Asia's biggest ship wrecking yard is in Gujarat's Alang. A 2019 law brought to help the yard has not been implemented yet. Many people got employment there. You have 2.5% custom duty there. How will it compete with a port that has 0% custom duty?"
"This is to help a particular friend gain a backdoor entry to the major ports in the country."
"Revise the draft of the Bill. It provides enough backroom entry to private persons, we are not opposing for the sake of opposing," Mr. Gohil says, adding this in the interest of the country.
Rajya Sabha | 10.15 am
On age relaxation to SC/OBC under EWS quota, Union Minister Krishan Pal Gujjar says, "When OBC and SCs were given reservation, circumstances were different. Not many applications were received and relaxation in age criteria was given. Under EWS we receive adequate applications."
Manoj Jha raises the issue of lateral entry at Joint Secretary level and asks if the Department of Personnel and Training (DoPT) consulted the Social Justice Ministry on the decision.
Minister Krishan Pal Gujjar responds, "We receive information on recruitments by DoPT and State governments."
"Members sitting in the Rajya Sabha gallery are not being shown on Rajya Sabha TV. Please show us also," says BJP's Neeraj Shekhar.
Union Labour Minister Santosh Kumar Gangwar says a package of Rs. 27 lakh crore has been given under Aatmanirhar to help generate employment in rural sector. "There are 40 crore unorganised labour and 10 crore organised labour in the country," says the Minister. He says, "1 crore labourers engaged in the unorganised sector returned to their home States during COVID-19. But many have now gone back."
G.C. Chandrashekhar of Congress says the local language is not being used in Namma Metro signage in Bengaluru. Minister Hardeep Puri says he is not aware of this, but will discuss with the Member. Chairman Naidu says local language should be used in all signboards of Metros in all cities.
Question Hour ends.
Rajya Sabha | 9.50 am
K.C. Venugopal of Congress asks why the price of petrol is at an all time high despite crude prices being at an all time low. "How many times has the Centre increased excise duty?" he asks.
Petroleum Minister Dharmendra Pradhan says, "Today, the price of crude oil in international market is $61. Before coming here, he should have checked with friends in Kerala as many live abroad. For the last three years we have reduced excise duty. For almost 250 days we have not increased or decreased the price."
Vishambhar Prasad Nishad of SP asks why petrol was so expensive in "Ram's land when it is cheaper in Sita's Nepal?" Mr. Pradhan responds, "Should we compare ourselves with large economies or small economies? He took Nepal and Bangladesh's name, the mass consumption items are expensive in these countries."
Rajya Sabha | 9.30 am
Question Hour begins
 
Civil Aviation Minister Hardeep Puri, responding to a question about opening up air routes to over 80%, says, "Our decision to raise the frequency of commercial flights beyond 80% depends on the behaviour of the virus and commercial decisions to be taken by the air carrier."
Mr. Puri, responding to AIADMK's Tambidurai's question on fluctuating airfares, says, "The sector is a deregulated sector. The government does not determine the price fixed by air carriers, it is the market that determines, can prescribe a band only in extraordinary circumstances."
"The question is on assumption of domestic traffic. Airline industry is difficult to define, it includes airports and air carriers as well," the Minister says when asked about the total losses incurred by airline industry due to COVID-19. "Nobody has an overall figure of the loss but it is reviving now."
MoS Home Nityanand Rai on fencing along Bangladesh border says, "33 land acquisition proposals are pending with the West Bengal government. Around 60 km cannot be fenced making the area prone to infiltration. As many as 2,548 were caught while illegally entering the country. 2104 FIRs have been registered, in which 4,189 have been named and 4,072 arrested. 1,134 chargesheets have been filed but conviction has been seen only in 212 cases. The BSF catches the suspects, hands them over to local police but the State police does not act in the manner it should."
Rajya Sabha | 9.10 am
Zero Hour begins
Vinay Sahasrabuddhe of BJP, speaking first in the Zero Hour, says "I do not know if U.S. President has taken a cue from our Aatmanirbhar call. Consulting is a huge business. Foreign agencies are engaged in it mostly, turnover in 2020 was Rs. 27,000 crore. Foreign-origin consulting agencies are grabbing the business. Public policy has become a lucrative domain, and talented students are opting for that. The government should adopt a policy wherein Indian consulting firms are given importance. Local firms are losing out due to the existing norms," he says.
Shaktisinh Gohil of Congress says, "As many as 1,100 fishing boats and 500 fishermen from Gujarat are lodged in Pakistan jails. Government should make efforts to bring them back."
K. Vanlalvena of Mizo National Front says trade along the Myanmar border is closed due to COVID-19. "Some businessmen have constructed seven unauthorised roads, thousands of good are entering India through these roads. They might turn into smuggling roads if necessary action is not taken. Reopen the border trade to avoid unnecessary situation."
Prasanna Acharya of BJD says a law must be framed for orphan children, to save them from exploitation.
Anil Baluni of BJP speaks about the ongoing rescue efforts in Uttarakhand. "Power projects and villagers have suffered losses. We can never forget the Kedarnath floods. The State is prone to glacier burst, cloudburst and earthquakes. I want to request the Centre to study the natural disasters affecting the State and devise a mechanism for the State," he says.
Jyotiraditya Scindia of BJP says education of the girl child was impacted due to COVID-19. "The period saw an increase in child marriages. As per an RTI reply, the child helpline recieved18,324 distress calls. I request Women and Child Development Minister to collect data on child marriages, mobilise anganwadi workers on mission mode so that the girls can go back to school."
Rajya Sabha | 9 am
Proceedings of the House begins
 
Chairman Venkaiah Naidu reads out the obituary of ex-Member Mahendra Bahadur Singh.
Vaiko and K. Soma Prasad seek leave of absence from attending the Rajya Sabha proceedings.
Jairam Ramesh of Congress seeks time to increase the time allotted for Budget discussion from 10 hours to 12 hours. Mr. Naidu says he will take a call.
Zero Hour begins.
Agenda
Lok Sabha
Reports to be presented:
Reports of the Department related Parliamentary Standing Committee on Food, Consumer Affairs and Public Distribution;
Reports of the Department related Parliamentary Standing Committee on Petroleum and Natural gas;
Reports of the Department related Parliamentary Standing Committee on Commerce
Motion of Thanks on the President's address
General discussion on the Union Budget
Bills for consideration and passing:
The Arbitration and Conciliation (Amendment) Bill, 2021
Agenda
Rajya Sabha
Obituary reference:
Mahendra Bahadur Singh, ex-Member
Reports to be presented:
Reports of the Department related Parliamentary Standing Committee on Petroleum and Natural gas;
Reports of the Department related Parliamentary Standing Committee on Food, Consumer Affairs and Public Distribution;
Reports of the Department related Parliamentary Standing Committee on Commerce
Bills for consideration and passing:
The Major Port Authorities Bill, 2020
General discussion on the Union Budget