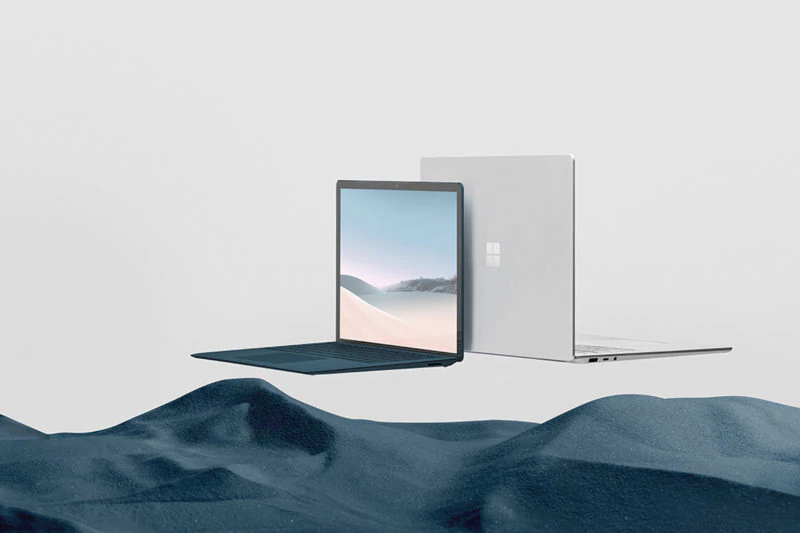 [ad_1]

Microsoft Surface devices are known for their feature-rich, compact form factor that make remote working and learning easier for everyone. Whether you're a student or someone who's now working from home, a compact device that lets you get things done quickly, and seamlessly.
Microsoft has now launched its Surface Laptop Go in India. The thin-and-light laptop is packed with great features that are essential for everyday computing. Microsoft's Surface Laptop Go is the company's lightest Surface laptop yet, making it ideal for travellers and students.
Surface Laptop Go is ideal for people who are looking to make their everyday computing easier, with a device that's more usable than a tablet, yet more compact and lightweight than an average laptop.
Most young laptop buyers look for a laptop that offers the right balance between performance, battery life, and design. The Microsoft Surface Laptop, helps you get more done faster. It offers a premium experience with a touchscreen display, ultra-productive keyboard, touchpad, and more at an affordable price point.
Powerful processor that helps to get things done
The Microsoft Surface Laptop Go is powered by the 10th generation Intel Core i5 processor. You can run all your essential applications without worrying about slowing the system down. It is powerful enough to handle all your daily productivity tasks. Microsoft 365 productivity apps run seamlessly on the Surface Laptop Go, helping you get your work and learning done without any hiccups.
Young professionals, especially frequent travellers or the ones who are currently working from home, can benefit the most from the compact yet powerful feature set of the Surface Laptop Go. The powerful Core i5 processor can help them get all their work done, and even let them enjoy the occasional binge-watching session on Netflix too.
Students across all age groups, looking for a single all-in-one computing device, can now look at the Surface Laptop Go for everything from learning from home to enjoying their favourite content on-the-go. Surface Laptop Go is also perfect for students who want to showcase their creativity to the world, and become the next-generation creators and influencers.
A battery that keeps going
One essential element of any good laptop is its battery life. When you're working remotely, while travelling, or from a classroom, you rely on the laptop's battery. Microsoft Surface Laptop Go comes with an all-day battery life that can last for up to 13 hours on a full charge, depending on your usage. This means you can go through an entire day without the need to hunt for a charging port.
Stylish looks
Microsoft Surface Laptop go is extremely thin and light, making it easier to carry around. It weighs just 1,110g and is just 15.69mm thin. It's an ideal essential everyday laptop for most consumers today. It comes with a touchscreen-enabled display and a full-size keyboard, unlocking more ways to get things done quickly.
Power-packed features for young professionals, students, and others
Microsoft has baked in quite a few essential features into the Surface Laptop Go that help you stay more productive on a daily basis. Skip passwords, and simply log in to your laptop with Windows Hello and the Fingerprint Power button. It's a lot easier to log in this way, and get to work the moment you turn on the laptop.
Video calls have become more important as everyone is working from home. Microsoft Surface Laptop Go features Studio mics and a 720p HD camera that makes your video calls even better. You not only look good during calls but you also sound a lot better to everyone in a meeting.
Microsoft Surface Laptop Go comes with a touchscreen display for easy navigation, a 720p HD front camera, omnisonic speakers and far-field mics, enabling the best video calling experiences for students or young professionals via Microsoft Teams or other video call platforms.
No matter where you're working or learning from, the Microsoft Surface Laptop Go can help you achieve optimal productivity. It comes with everything you need, from next-generation ports to a slim and lightweight form factor, Surface Laptop Go is the perfect everyday laptop for most people.
| Display | 12.4" PixelSense™ Display |
| --- | --- |
| Memory | 6GB, 8GB or 16GB LPDDR4x RAM |
| Processor | 10th Gen Intel® Core™ i5-1035G1 |
| Graphics | Intel® UHD Graphics |
| Storage | 128GB/256GB removable SSD |
Prices for Microsoft Surface Laptop Go start at Rs. 63,499 in India for the 6GB RAM, 64GB storage variant. You can also pick a high-end variant with 8GB RAM, 128GB storage for Rs. 71,999 while the top-end variant is available at Rs. 91,999 (16GB RAM, 256GB storage). Surface Laptop Go is available via online marketplaces such as Amazon, Reliance Digital, as well as authorised retailers across India. 
[ad_2]

Source link