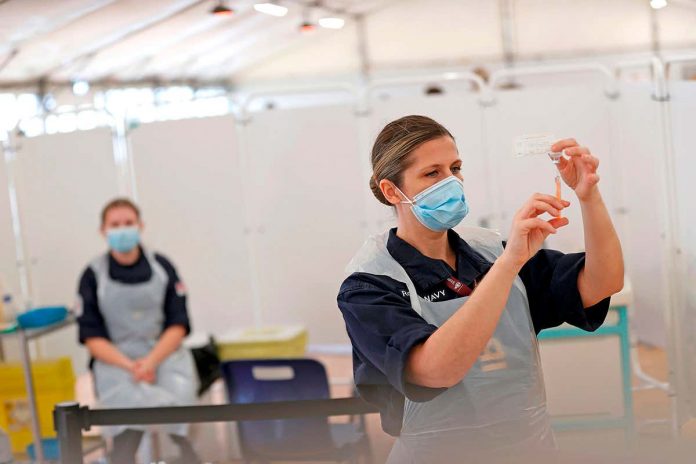 Latest coronavirus news as of 5pm on 3 February
Covid-19 vaccine against new variants could be deployed rapidly, says Oxford vaccine researcher
A version of the covid-19 vaccine developed by the University of Oxford and AstraZeneca that can tackle the new, highly transmissible coronavirus variants could be ready to deploy in about 7 months in the UK, according to a researcher on the Oxford vaccine team. "The actual work on designing a new vaccine is very, very quick because it's essentially just switching out the genetic sequence for the spike protein," Andrew Pollard at the University of Oxford told the BBC. "And then there's manufacturing to do and then a small scale study. So all of that can be completed in a very short period of time, and the autumn is really the timing for having new vaccines available for use," he said. Pollard said work is already underway to update the vaccine and increase its efficacy against recently identified coronavirus mutations, such as those in the variants first sequenced in the UK and South Africa.
Preliminary results suggest that the Oxford/AstraZeneca vaccine may reduce coronavirus transmission, in addition to reducing symptomatic covid-19 and severe illness. UK health minister Matt Hancock praised the findings of the study led by researchers at the University of Oxford. The results indicate that two doses of the jab reduce coronavirus infection with or without symptoms by 67 per cent. They also suggest that a single dose of the vaccine is 76 per cent effective at preventing symptomatic covid-19 for three months, with this figure increasing to 82 per cent after two doses. Hancock described the results as "absolutely superb" and said they show that "vaccines are the way out of this pandemic".
Advertisement
Other coronavirus news
A mobile coronavirus testing unit has been set up in the town of Southport in England to test residents for the coronavirus and identify if they have the variant first identified in South Africa. Firefighters and council staff are also delivering 10,000 home testing kits to people living in the area.
Denmark announced plans to introduce a digital "Corona-Pass", which would allow Danish citizens to prove they have been vaccinated against covid-19 for the purposes of business and leisure travel, according to the country's finance ministry.
Israel will start expanding its covid-19 vaccination programme to everyone over the age of 16, according to its health ministry.
Coronavirus deaths
The worldwide covid-19 death toll has passed 2.25 million. The number of confirmed cases is more than 104 million, according to Johns Hopkins University, though the true number of cases will be much higher.
Latest on coronavirus from New Scientist
Pandemic burnout: As the coronavirus crisis goes on, an increasing number of us are feeling worn out and unable to cope. Here's how you can tell if this is burnout, and what you can do to protect yourself.
Vaccine during pregnancy: With little safety data available on covid-19 vaccines during pregnancy, individuals who are pregnant must weigh up the risks and benefits for themselves, while evidence for those who are breastfeeding is more clear.
Essential information about coronavirus
Everything you need to know about the pandemic
Where did coronavirus come from? And other covid-19 questions answered
You could be spreading the coronavirus without realising you've got it
Which covid-19 treatments work and how close are we to getting more?
What will it take to get a covid-19 vaccine to the world?
What to read, watch and listen to about coronavirus
The New York Times is tracking hospital bed occupancy in England in an interactive graphic.
Panorama: The Race for a Vaccine is a BBC documentary about the inside story of the development of the Oxford/AstraZeneca vaccine against covid-19.
Race Against the Virus: Hunt for a Vaccine is a Channel 4 documentary which tells the story of the coronavirus pandemic through the eyes of the scientists on the frontline.
The New York Times is assessing the progress of different vaccine candidates and potential drug treatments for covid-19, and ranking them for effectiveness and safety.
Humans of COVID-19 is a project highlighting the experiences of key workers on the frontline in the fight against coronavirus in the UK, through social media.
Belly Mujinga: Searching for the Truth is a BBC Panorama investigation of the death of transport worker Belly Mujinga from covid-19, following reports she had been coughed and spat on by a customer at London's Victoria Station.
Coronavirus, Explained on Netflix is a short documentary series examining the on-going coronavirus pandemic, the efforts to fight it and ways to manage its mental health toll.
New Scientist Weekly features updates and analysis on the latest developments in the covid-19 pandemic. Our podcast sees expert journalists from the magazine discuss the biggest science stories to hit the headlines each week – from technology and space, to health and the environment.
COVID-19: The Pandemic that Never Should Have Happened, and How to Stop the Next One by Debora Mackenzie is about how the pandemic happened and why it will happen again if we don't do things differently in future.
The Rules of Contagion is about the new science of contagion and the surprising ways it shapes our lives and behaviour. The author, Adam Kucharski, is an epidemiologist at the London School of Hygiene and Tropical Medicine, UK, and in the book he examines how diseases spread and why they stop.
Previous updates
2 February
UK science advisers recommended introduction of travel restrictions two weeks ago
The UK's Scientific Advisory Group for Emergencies (SAGE) advised the government to introduce mandatory hotel quarantine for travellers arriving into the UK two weeks ago, according to minutes from a meeting on 21 January that were leaked to the Times. On Thursday 21 January, SAGE reportedly warned that "reactive, geographically targeted" travel bans couldn't be relied on to prevent faster-spreading coronavirus variants, such as those identified in South Africa and Brazil, from reaching the UK, adding that: "no intervention, other than a complete, pre-emptive closure of borders, or the mandatory quarantine of all visitors upon arrival in designated facilities, irrespective of testing history, can get close to fully preventing the importation of new cases or new variants." 
A Downing Street spokesperson said SAGE did not directly advise UK prime minister Boris Johnson to close borders. Universities minister Michelle Donelan told Sky News that the government "always based our decisions on the best medical and scientific advice" and said "the SAGE advice actually said it would probably be ineffective, in fact, to close the borders, which was the same advice that we got at the time from the World Health Organization". Johnson announced geographically targeted hotel quarantine measures for travellers returning from 30 countries, including Brazil and South Africa, last week.
UK health minister Matt Hancock urged people living in postcodes in England singled out for enhanced coronavirus testing for the so-called South Africa variant to stay at home unless "absolutely essential". Urgent door-to-door testing for the faster-spreading variant has been deployed after 11 cases with no link to foreign travel were identified in parts of England.
Other coronavirus news
Interim results from phase III trials suggest Russia's covid-19 vaccine is 91.6 per cent effective, and data on the vaccine is being submitted to the European Medicines Agency, according to Kirill Dmitriev, director of the Russian Direct Investment Fund. The results, based on a phase III trial including 21,977 adults, three-quarters of whom received the Sputnik V vaccine, are published in scientific journal the Lancet. Other participants received a placebo. 
Sweden announced it would not recommend the covid-19 vaccine developed by the University of Oxford in partnership with AstraZeneca for people aged over 65, hours after Poland said it would not offer the vaccine to over 60s. Last week, medical experts in Germany and Austria made similar recommendations, citing a lack of data in this age group. The European Medicines Agency authorised the vaccine for use in all adult age groups across the European Union and Julie Raine, chief executive of the UK Medicines and Healthcare products Regulatory Agency, last week said: "Current evidence does not suggest any lack of protection against covid-19 in people aged 65 or over. The data we have shows that the vaccine produces a strong immune response in the over-65s."
Coronavirus deaths
The worldwide covid-19 death toll has passed 2.24 million. The number of confirmed cases is more than 103 million, according to Johns Hopkins University, though the true number of cases will be much higher.
Latest on coronavirus from New Scientist
Faster-spreading variants: The faster-spreading UK coronavirus variant has acquired a mutation that will help it evade immune protection – the same mutation already found in the South African variant.
1 February
All adults in parts of England to be tested for South Africa variant after 11 new cases identified
Door-to-door testing for the so-called South Africa coronavirus variant will begin in parts of England this week, after 11 cases with no known links to travel or to previous cases were identified in eight areas of the country. Urgent testing of adults, regardless of symptoms, will take place in some postcodes in Hertfordshire, Surrey, Kent, Walsall, Sefton and in the London boroughs of Merton, Haringey and Ealing. "We are trying to contain this so it does not spread," Susan Hopkins, senior medical adviser at Public Health England told the BBC. Any newly identified infections will be analysed to see if they are caused by the highly transmissible coronavirus variant first sequenced in South Africa. 
UK health minister Matt Hancock "has ordered an attempt at eradication of the new variant if at all possible", with public health officials starting to go door-to-door in affected areas this week, according to a briefing seen by the Guardian. "This is a precautionary measure," said Ruth Hutchinson, director of public health for Surrey, in a statement. "The more cases of the variant we find, the better chance we have at stopping it from spreading further," said Hutchinson, adding: "It's really important to say that there is currently no evidence that this variant causes more severe illness, so you don't need to worry."
Other coronavirus news
A covid-19 vaccine has now been offered to older residents at every eligible care home in England, the NHS announced, but vaccination rates of care home staff are lagging behind residents. Fiona Carragher, director of research and influencing at Alzheimer's Society told the BBC she remained concerned that the vaccination rollout for care home staff "has not been nearly so effective". In January, UK Prime Minister Boris Johnson said the UK government aims to vaccinate all those over 70, the most clinically vulnerable people and frontline health and social care workers by 15 February – equivalent to about 15 million vaccinations. Across the UK, more than 8.9 million people had received a first dose of covid-19 vaccine as of 30 January.
The European Union said AstraZeneca has agreed to supply it with 9 million additional doses of its covid-19 vaccine, developed in partnership with the University of Oxford. This brings the total number of expected doses for the first quarter of this year to 40 million, which is about half of what the EU was originally expecting. European Commission president Ursula von der Leyen tweeted saying the company would expand its manufacturing capacity in Europe, and start delivering doses a week earlier than scheduled.
Germany's health minister Jens Spahn hinted that covid-19 vaccines from China and Russia could be used in Europe to compensate for the shortfall of doses supplied by Pfizer and its partner BioNTech, and by Oxford/AstraZeneca. "Regardless of the country in which a vaccine is manufactured, if they are safe and effective, they can help cope with the pandemic," Spahn told German media on Sunday, adding that any vaccine will first need to be approved by the European Medicines Agency.
Coronavirus deaths
The worldwide covid-19 death toll has passed 2.23 million. The number of confirmed cases is more than 103 million, according to Johns Hopkins University, though the true number of cases will be much higher.
Latest on coronavirus from New Scientist
Can vaccines stop transmission?: Several studies suggest that coronavirus vaccines can significantly reduce transmission of the virus, but not halt it completely – so social distancing is still necessary.
29 January
Vaccines from Johnson & Johnson and Novavax report positive trial results
A coronavirus vaccine developed by the US firm Novavax has been shown to be 89 per cent effective in preventing covid-19 in clinical trials. The trials included participants in the UK and South Africa, and found the vaccine to be 86 per cent effective against the UK variant of the virus, but only 60 per cent effective against the variant in South Africa. Novavax said it will immediately begin development on a vaccine specifically targeted to the South African variant.
Janssen, a subsidiary of US firm Johnson & Johnson, announced that its covid-19 vaccine showed 66 per cent efficacy in an international trial. These results are based on a single dose of the vaccine, which makes it easier to administer than the two-shot vaccines that have already been approved. The company has said it will sell its vaccine on a not-for-profit basis.
The UK has already ordered 30 million doses of the Janssen vaccine and the European Union has ordered 400 million. The UK has also ordered 60 million doses of the Novavax jab.
Other coronavirus news
The European Medicines Agency has recommended the approval of the Oxford/AstraZeneca coronavirus vaccine for all adults, which will allow mass use of the vaccine in the European Union. Yesterday, a German committee recommended against approving the vaccine for people over 65 because of insufficient data in the trials, but the EMA's experts said protection could be expected in this group and there is reliable information on safety. The vaccine is already the subject of a dispute between AstraZeneca and the EU over the firm's decision to supply fewer doses to the EU this year than initially agreed. Today, the European Commission published parts of its contract with AstraZeneca, which it says obliges the company to supply the agreed volumes. The drug-maker says the contract only obliges it to make its "best effort" to meet the EU demand, not to stick to a specific timetable. The EU also announced export restrictions on vaccines made within the bloc in response to the planned cut in deliveries. 
The coronavirus variant from South Africa – which is more infectiousness  than the original variant – has been detected in the US for the first time, with two cases confirmed in South Carolina. 
The New York state government has released new figures showing that it undercounted deaths from covid-19 in nursing home residents by more than 3800. The state's overall death toll has not increased, but the higher tally in nursing homes has fuelled criticism that governor Andrew Cuomo did not do enough to protect those residents.
In the UK, covid-19 hospital admissions fell to 33.51 per 100,000 people from a rate of 35.64 in the week ending 24 January, figures from the Office for National Statistics show. One in 55 people in private households in England tested positive for covid-19 between 17 and 23 January, which is similar to the previous week. The infection rate was roughly one in 70 in Wales, one in 50 in Northern Ireland and one in 110 in Scotland. The R number for the UK is between 0.7 and 1.1, according to the latest estimate by the government's scientific advisory group. The R number is the number of people each person with covid-19 will go on to infect.
Latest on coronavirus from New Scientist
Global vaccine distribution: While mass immunisation programmes are making rapid progress in rich nations, many middle-income countries have only just begun roll-outs and most low-income ones will take months to get started. These delays increase the risk of mutations leading to variants that are more transmissible,and may render vaccines less effective in future.
Coronavirus deaths
The worldwide covid-19 death toll has passed 2.19 million. The number of confirmed cases is more than 101 million, according to Johns Hopkins University, though the true number of cases will be much higher.